PDP-11/93 in New York City Needs a New Home
Please note: this equipment has been donated; the page is kept on the web as a bit of computer nostalgia.
Reluctantly, I am forced to seek a new home for a PDP-11/93 along with assorted q-bus boards from DEC, ADAC, and others and related hardware (including rack, reel-to-reel magtape drive, and terminal server) and plenty of original documentation.
This equipment (described more fully below) is at Weill Medical College (formerly Cornell University Medical College) in Manhattan. I cannot pay or arrange for shipping, but would be happy to help assist carting the material to our loading dock, or, to facilitate shipping that paid by a purchaser.
In view of the amount of material (about a van-full), I am willing to hold on to the equipment for a few weeks, so that a mutually convenient pickup can be arranged.
All items below are offered "as is", and preference will be given to the best offer for the entire lot.
For further details, please email me.
PDP-11/93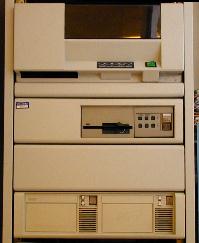 Click on image for larger version

In rack enclosure (?BA23) and expansion box, with fans and power supply.
DEC KDJ-11E processor
DEC DRV-11J digital I/O
DEC RQDX3A-AA disk controller
DEC RQDX3E disk controller
DEC M7504 DEQNA ethernet board
3 RD54's (each 180 Mb HD; two in the expansion box)
5.25" floppy
4 MB RAM
Peritek DMA-Q DMA controller
Emulex QT-13 tape coupler
ADAC 1601-GPT programmable timer
ADAC 1023-ADC analog-to-digital converter

The system was built in 1990 by Hamilton Avnet, and was in continuous use for real-time data acquisition and instrument control until it was replaced by three PC's, and reluctantly powered down, in 6/2002 ("Why?" you ask). Manuals are provided for system, Peritek, and ADAC boards.
---
Regrets
I truly regret that I cannot keep this machine any longer. It is the last of its line (/23, /45, /73), and it had a long, meaningful, and productive life, outperforming a trio of PC's until its power-off day, and scaring many a student.
Making this system Y2K compatible (to conform to institutional standards) was also a memorable experience.
I will not part with my 11/45 processor handbook.
April 20, 2003