Matt Davey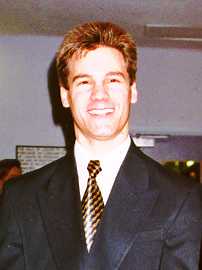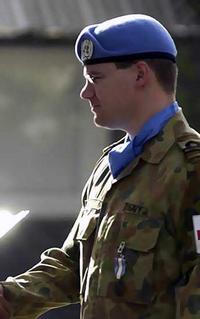 Matt Davey, a beloved member of our lab, died tragically on April 2, 2005, in a helicopter crash on Nias, Indonesia, where he, a Lieutenant in the Australian Navy reserves, was assisting in the earthquake relief efforts.
He was with us in New York for only about 3 months, in 1998-9. He arrived with his hair frosted, fresh from a medaling performance in a ballroom dance competition.
In those few months, he accomplished a tremendous amount -- carrying out research that demonstrated, for the first time, the clinical electrophysiology of certain aspects of chronic brain injury. This work, later published with Niko Schiff, was crucial for developing an understanding of the pathophysiology of severe brain injury.
Matt seemed to have a 28-hour sleep-wake cycle (he said he forgot to bring his lamps with him), and so, he rotated in and out of phase with the rest of us. When his waking hours overlapped with mine, he worked with incredible energy. When his waking hours overlapped with the (nocturnal) working hours of the grad students -- Steve Kalik, Mike Repucci, and Bob DeBellis -- he set up Quake on several workstations, thus intermittently paralyzing the rest of my lab for most of the period he was in NYC and a substantial time thereafter.
We will remember him with great admiration and fondness.
Jonathan D. Victor

---
Article in The Age
Article in Navy
Article in Wikinews
---
Davey's publication on EEG dynamics and dysfunction in brain injury
---
Return to Jonathan D. Victor's home page
Return to lab home page